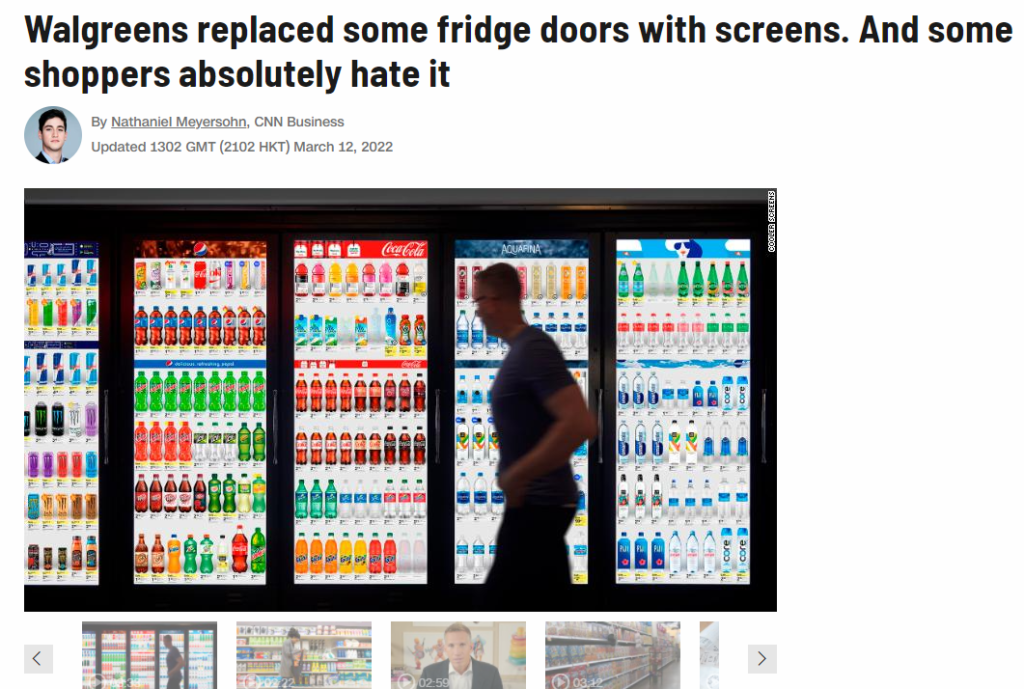 Walgreens (a US-based drugstore/convenience store) replaces refrigerator doors with video screens.
I just want Haagen Dazs ice cream. But I cannot see which freezer it is actually in until the ad stops, then it states it is in this particular freezer. But it isn't because they ran out and an employee hasn't restocked. I don't need "education" on how to appreciate being advertised too, I need my fucking ice cream. This shift makes an onerous part of life materially worse.
I am sure the next update will have the doors on the freezer lock until the ad has finished playing all the way through, and the ad will stop playing if you look away in distraction.
Also, the gas will stop pumping if you don't look at ad on the screen on the pump at the gas station and you must also verbally engage with the ad when it asks a question otherwise it stops pumping. If you answer enthusiastically it will waive the $2 surcharge because you had the audacity to use a debit card.
I am so glad I am getting old and will die soon so I don't have to live in this dystopian hellhole the new generation are creating for us.
"We're losing out to on-line retail! Quick! We need to figure out other revenue sources that don't entail selling anything to the consumer! While we're at it, let's make our in-store experience worse!"
You think that's bad? Check out the hellscape that is the MTA in NYC where the THC ad covers 95% of the screen. Where the ad is so big the useful information is clipped off.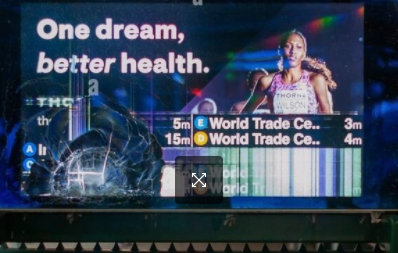 Yay! I can suck on my cannabis vape whilst I stand dangerously close to the edge of the platform waiting for the uptown train contemplating the future of our world.
This one was vandalized. Not sure if it was in response to the utility of the screen or just general protest.
Idiocracy was not meant to be a "how to" manual…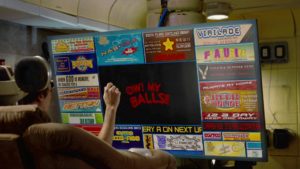 Footnote:  How to confuse looters – All the video displays on the front of cabinets and vending machines switch to pictures of low value Kraft cheese single slices, hiding the higher value products inside the cabinets when the store closes for the evening.