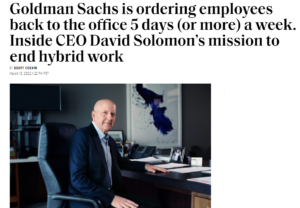 The summary of the article from Fortune's website: "Goldman Sachs's CEO demands employees RTO. Only half of them show up."
This was my last company, in June/July '21, just before Delta smacked us upside the head.
Execs say "Everybody RTO! No exceptions!" even if you were hired in to a permanent remote role, which I was.
More than half of the people (all software developers) refused throughout a few different teams. Within days HR fired the refusers for… well, refusal. I am sure there were negotiations, cajoling and conversations that happened behind closed doors that I was not a party too, even as team lead. We went from a team of 60+ developers and about a dozen managers, to a team of four develoeprs and a dozen managers.
My director came to me and asked "You're sticking around, right?"
"For as long as I can." I replied.
I quit four weeks later, at the tail end of August, after landing a different job.
He knew I was interviewing. But what could he do? Convince me to stick around in a hot market when being paid below market rate? Without a raise in 18 months after being told that all raises were frozen across the board for the duration of the pandemic? After the company posted record breaking profits for the past six quarters? After everybody at director level and above got bonuses and raises for outstanding company performance? And then change the rules of being hired remotely?
After the company let the software developers go, and the few remaining developers bailed out shortly afterwards, then the company had a round of lay-offs of managers and directors because… there's nobody to manage and you cannot pay below market-rate — below market-rate even for Summer of '21 before hiring of software developers went thermonuclear — and also enforce RTO in a HCOL area in the middle of a pandemic just as the market for hiring of software developers is heating up.