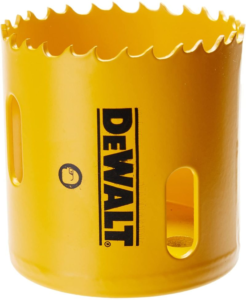 You know what's really annoying?
Going to Home Depot to buy a 7/8″ hole saw with a 3/8″ shank, along with the mandrel for your power drill, so you can drill a neat and tidy hole in the back of a cabinet to feed a couple of cables through, only to get home and realise that the mandrel has a 1/2″ shank that won't fit the 3/8″ shank hole on the hole saw.
So you go back to Home Depot to get what you need and figure you will return the incorrect mandrel whilst you're at it.
But you know what is even more annoying than that?
Standing in the returns line, fidgeting and fiddling with the mandrel, only to realise it has a removable collar that permits the shank of the mandrel to fit both 3/8″ shank hole and 1/2″ shank hole, hole saw bits.
I am now going to remove "detail oriented" and "quickly gets up to speed with new concepts" from my C.V.